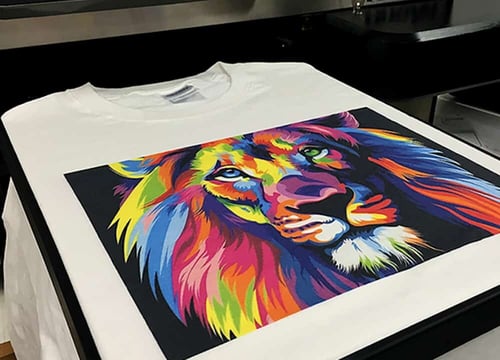 British Made Direct to Garment Ink
If you are in need of direct to fabric inks which are more cost-effective than your OEM but do not compromise on reliability and quality - we can help.
We have many years of expertise in the development of a large portfolio of wide format digital inks. Our inks are formulated for use in popular brand OEM printers.
How does Direct to Garment work?
Although Direct to Garment inkjet printing hasn't been around for particularly long, it has revolutionised the way in which designs are printed onto textiles and garments.
Direct to Garment printing involves printing a design onto an item such as a t-shirt in the same way that a standard inkjet printer prints a design onto a piece of paper.
The process is a little more complex than printing onto paper. For example, the textile needs to be treated with a liquid prior to printing which ensures the ink will 'stick' to the fibres of the fabric. For dark garments, it is common for a layer of white ink to be printed underneath the design to ensure the final design is vibrant and clear.
Advantages of Direct to Garment Printing
Direct to Garment technology possesses a number of benefits which make Direct to Garment inks a great product offering for end users:
Small-volume capability: Due to the fact that Direct to Garment printing is such an easy process to setup and execute, it is a great option for short-run orders as well as small batches and samples.


Colour Quality: Direct to Garment printing uses high quality pigments which produce distinct and vibrant colours. Due to the fact that Direct to Garment printers use the standard CMYK formula, the colour palette is virtually limitless.


Versatility: Direct to Garment printers are able to print on a wide variety of fabrics and products
Direct to Garment Applications
DTG inks are particularly useful for printing onto textiles and fabrics within a range of industries:
Promotional Goods
Whether it's T-Shirts, sweatshirts, hoodies, cloth bags, Direct to Garment inks allow for the printing of marketing and promotional goods on a range of textiles.
Fashion


Direct to Garment technology is a great option for printing onto fashion textiles such as womenswear, menswear, children's clothing, nightwear, outerwear and even accessories such as handbags, purses and scarves.
Personalisation


With an increasing amount of small business owners designing and printing their own custom-made apparel, the market is competitive and being able to offer end users a high quality ink product to produce their items is essential.
Home Textiles


Household items and linen such as towels, bedlinen and pillows can all be printed onto using Direct to Garment Technology.