Needham Quality

With over 59 years of ink development and manufacturing experience, Needham Ink Technologies provides a broad range of inks to a distributor network in over 73 countries. Over the decades we have maintained a successful track record of continuous growth and innovation. As a family-led business, our key focus is to create valuable, long-lasting relationships with our clients, and provide you with the means to grow your business.
To ensure this, our top priority is to ensure the quality of the products we manufacture. Each of our inks is rigorously tested to ensure the highest quality product leaves our factory doors every time. Our team of chemists, based in our research labs at Whitchurch and Newquay (UK) ensure that each ink product that we produce can deliver excellent colour accuracy and reliability for our customers.
We have a Quality Assurance process in place which checks six key properties of the ink products we make, and if any of them are not absolutely perfect, our ink makers will continue working until it is. So, what are we looking for?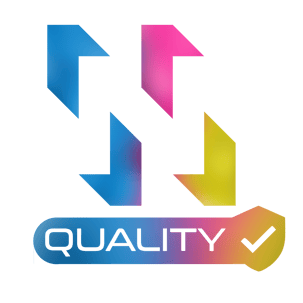 Viscosity is essentially the thickness of ink or its resistance to flow. Different inks require different levels of viscosity for different printing processes and substrates.
Simply put, the surface tension of an ink relates to the 'skin' that forms on the outside surface of the ink, which is held together in the air by the tension across the surface of the ink.
The colour of ink is obviously one of the most important elements, with different printing applications requiring different colours.A technique called a 'drawdown' is used to examine the ink for its vibrancy, colour and purity. At this point, any impurities or contaminants are also visible.
A printing ink with a specific gravity of 1.5 will cover twice as much substrate per pound as will ink with a specific gravity of 3.0. Specific gravity is measured by placing a device called a 'hydrometer' into the ink.
Most commercial water-based inks are stable at an alkaline pH. Inks that have particles stable under neutral pH conditions exist, but are costlier. The pH of ink is usually measured by using a pH probe or test strips.
Conductivity is the ability to transmit or conduct an electrical charge, which is important for some inks such as CIJ inks. Measurement is taken by placing electrodes into a sample of ink and taking a reading.
Become a Distributor
At Needham Ink Technologies we believe in establishing and nurturing long-term distributor partnerships. We are constantly looking to appoint trusted, experienced distributors with in-depth technical expertise and broad knowledge of their local market. Most importantly, however, we are looking for partners who want to grow their business as much as we want to grow ours.
Our distributor network can take advantage of:
Competitive product prices

Access to the latest innovations in ink technologies

Technical, sales and marketing support

Competitive advantage in your local market