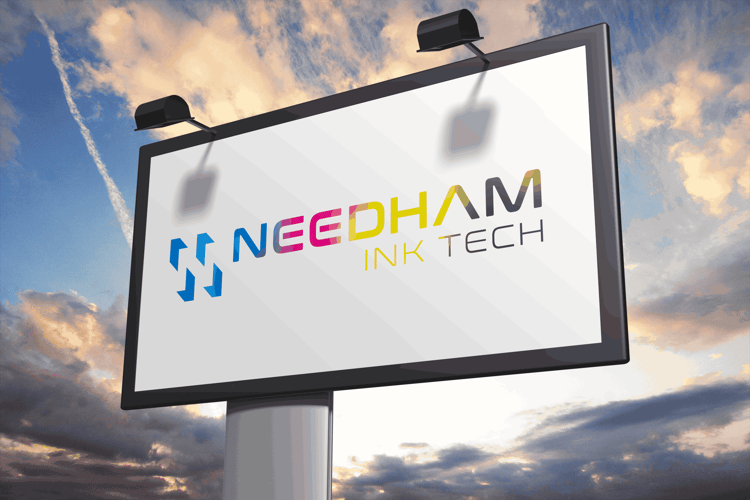 British Made Eco-Solvent Ink
Eco-solvent inks are capable of producing vibrant colours, while maintaining a waterproof and scratch proof finish. Their versatility makes them an ideal solution for printing onto trade show graphics, vinyl, banners and outdoor signs.
Here at Needham Ink Tech we have decades of experience in researching and developing high-quality, British made eco-solvent ink products which meet their compatible OEM quality at a lower cost.

What is Eco-Solvent Ink?
Eco-solvent inks have colours which are suspended in a mild biodegradable solvent, which means that the ink has virtually no odour as they don't contain as many volatile organic compounds. They've been around since the early 2000s and originally were designed for general signage work. They were developed in response to an industry demand for more operator and customer-friendly inks than the original "strong" or "aggressive" solvent inks.
Strong solvents have a high content of VOCs (volatile organic compounds) which often require forced ventilation and extraction to protect the printer operators, and many of them retain a distinctive lingering smell which makes them unsuited to indoor use where it's noticeable.
Advantages of Eco-Solvent Inks
Kinder to your printer: The lower volatility of eco-solvent inks also means that their printing cartridges are not so damaging to the components of your printer, which means less repairs and less frequent full system cleans.


Low Odour

: Due to the fact that eco-solvents don't have the same strong smell as solvent-based inks, you are not limited on where you must place your printer, or having to print in a smaller space.




Resilient:

Eco-solvent inks, once dry, are waterproof, lightfastness, scratch-resistant and will withstand even harsh outdoor conditions. A perfect solution for signage and banners with high outdoor performance.
Eco-Solvent Applications
Eco-solvent inks are particularly useful for printing onto various substrates within a range of industries:
Outdoor Signage
The water and scratch resistance of eco-solvent inks once dry makes them the go-to choice for those who are looking to print long-term, large format outdoor signage.
Vehicle Wraps


Eco-solvent inks are a popular choice for printing vehicle wraps due to their resilience and lack of corrosive volatile organic compounds (VOCs).
Banners


In addition to their outdoor resistance, eco-solvent inks also produce vibrant colours which make them an ideal solution for printing large format banners for events or promotions.
Textiles


Eco-solvent inks can even be used for fabric prints via the use of transfer printing, meaning they can be used to print onto items such as t-shirts.