Have you ever seen an egg or piece of meat with a mark printed on it and wondered, 'can I eat that?'. The answer is, yes, you can. The mark on your food items is produced using food-grade ink, and here at Needham Ink Tech, we produce that ink.
WHAT IS FOOD-GRADE INK?
Food-grade ink is a specific formulation of ink that is produced to be compatible with inkjet printers, and which can be printed either directly onto food or onto food packaging without posing any risk or harm to those consuming the food items. While traditional solvent-based inks are manufactured using methyl ethyl ketone (MEK) which is toxic to humans and animals, food-grade inks typically use food-grade ethanol; food-grade ethanol is a powerful natural human-safe solvent due to its purity and lack of additives and is useful for lots of food-safe applications that may come in contact with people.
Inks used in CIJ printers for coding onto food and pharmaceutical products are subject to regulations set out by national governing bodies. Needham Ink Tech food-grade inks are designed to meet these regulations and can be used to code in both food and pharmaceutical applications.

WHERE IS FOOD-GRADE INK USED?

Food-grade ink is used for a number of specific printing applications. Here are some of the main ones:
HEALTH MARKING

Nowadays, all meat has to be traceable from the moment it enters the food chain. A health mark is applied to fresh meat that has been produced in licensed premises in accordance with the regulations, under veterinary supervision. It is an internationally recognised symbol indicating that the meat has been inspected and passed as fit for sale for human consumption.

PHARMACEUTICAL

Pills need to be marked with identification data to ensure that they aren't counterfeit, or tampered with in any way. They need to be clearly marked with the name of the drug they contain, as well as dosage information. Inkjet printing solutions are particularly suitable for implementing requirements for the identification of medicines. Inkjet printing can be used to generate both characters and 2D barcodes at high print speed and quality and apply them to a variety of surfaces and materials.
EGG PRINTING

You won't find an egg without a mark printed onto it if it's being sold from a large farm or facility. The egg marking ink is formulated to comply with food safety standards and is applied directly onto the egg. The egg ink helps businesses worldwide to correctly label products and meet quality standards.
FOOD PACKAGING

Safety is a necessity when it comes to any ink, but it's particularly important for printing on food and beverage packaging substrates that are composed of a wide variety of different materials. Food-grade ink is commonly printed on:
Flexible plastics
Shrink sleeves
Tin cans
Glass bottles
Corrugated cases and cartons
FOOD-GRADE PRINTING WITH THE N-SERIES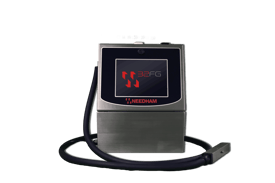 Our own N-SERIES Continuous Inkjet printer range is available in a variety of configurations. The N32FG is our Food Grade CIJ Printer, with similar specs as the standard N32 model, but specifically designed for printing with food-grade inks.
N-SERIES Food Grade industrial inkjet printers are compatible with FDA, EU, and other compliant inks and are capable of printing directly onto food products, ideal for egg coding, fruit & vegetables, or permeable food packaging. Complimented by a diverse range of Food Grade Inks, including self disinfecting ink formulations to enable food products to be printed directly with fast-drying, edible red or blue ink. The red ink is specially formulated for use in egg processing facilities. Suitable applications include:
Egg packers and producers
Food processing and packaging
Confectionery
Bakery products
Cheese
Fruits
Vegetables
WANT TO LEARN MORE?
We hope that this blog has helped to shed some light on the uses and benefits of food-grade ink technologies. Here at Needham Ink Technologies, we have decades of experience in providing reliable coding solutions and consumables you can rely on. You can contact our team of experts to learn how you can reap the benefits of food-grade printing with our N-Series coding printers:
Call +44(0)1948 662629 (UK) | +353 (0) 44 9372771 (IRE)
Email: enquiries@needham-ink.com