With the choice available, what considerations do you need to have when selecting the best technology for your business/application? Luckily for you, we're here to help!
There are a number of factors driving the demand for manufacturers to invest in coding technology, including regulatory requirements, traceability needs, and the display of information.
There is a range of technologies available; Continuous Inkjet, Thermal Inkjet, Drop on Demand, to name a few. With the choice available, what considerations do you need to have when selecting the best technology for your business/application? Luckily for you, we're here to help!
So, what factors should you consider?
MATERIAL/ SUBSTRATE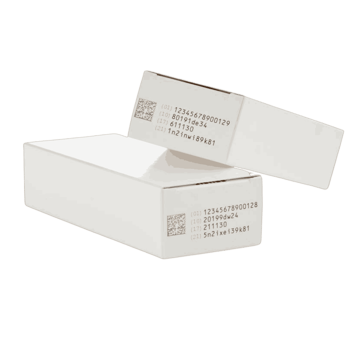 Any print surface can be considered a substrate, and the surface you're aiming to print on plays a huge part in determining which technology you should invest in. The attributes of the printing surface impact the quality and finish of the final print. Therefore, it is critical to evaluate how the ink interacts with substrates for coding and marking.
The type of material that information will be printed on determines the type of ink that will be used in the printer. Some ink types have better surface adhesion than others. And, the porosity of the print surface is a crucial component in effective ink bonding.

So, if you will be printing on a porous and absorbent surface such as paper, cardboard, textiles, carpet, non-woven fabrics, wood, organic surfaces, etc., then the ink type will be different than if you are printing on a non-porous and non-absorbent surface such as metal, glass, ceramics, stone, plastic, rubber, foils, etc. Thus, you need to know what type of substrate the printer can print on.

SHAPE AND DIMENSIONS

Printing on a flat surface is a given for all printers. However, there is a threshold where the increasing curvature of the printing surface will result in diminished print quality or no print at all. So, if you need to print on a curved surface, you should make sure that the printer you are considering will print legible, clean marks on your products. Look for a printer with a larger throw distance. CIJ printers have higher throw distances and therefore a better choice for printing on surfaces with high curvature.
TYPE OF INK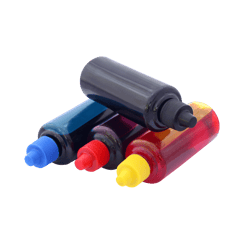 Choosing the right ink type for your application will determine the quality, durability, and readability of your marks. Factors affecting ink adherence and performance must be considered. So, these aspects of printer ink should be considered:
INK COLOUR
Will you be using your corporate colours in marking your products? Will the marking ink colour be incorporated in the overall product packaging design? Will your product variants be differentiated with ink colour?
INK TYPE
Does your application require food-safe ink or will you be printing on wood or lumber? There are several ink types are available:
Water-based
Oil-based
Dye Inks
DRYING TIME
If you have a fast-moving production line where product markings have to dry quickly before the next line operation, then you need fast-drying printer ink.

ENVIRONMENT

How many manufacturing lines require a printer? Will the printer be installed in a humid or dusty environment and be subject to vibration and temperature changes? Can the print head withstand bumps occasionally? Can the printer be placed in a network of printers? How easily can the printer be integrated into your existing production line? Check that the printer manufacturer is capable of providing custom mounting, and possess the knowledge and expertise to offer you an integrated solution and industrial automation, control system design & integration and turnkey automation.

We hope this article has helped shed some light on what factors you need to consider when selecting coding and marking solutions.