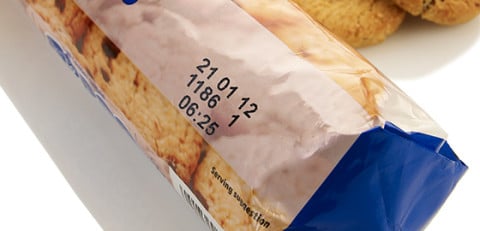 Premium quality TIJ Ink
If you are looking for high-quality thermal (TIJ) inkjet inks, we have what you need. We have many years of expertise in the development of a wide range of ink chemistries including solvent, aqueous and functional inks. Our inks are formulated for use in OEM printers. If you have a problem and need ink to solve it, we can help.
How does TIJ work?

The Thermal Inkjet (TIJ) process utilises ink cartridges as opposed to the replenishable tanks used by CIJ printers. Through a process of 'drop ejection', TIJ printers propel ink droplets using heat. The ink is heated to a temperature of 340°C which generates a bubble. As this bubble expands, it propels the ink to the surface of the material being printed on. Once the ink droplet leaves the ink nozzle, the bubble collapses and creates a vacuum for the process to repeat.
TIJ, by comparison, is a low maintenance and cost-effective method for producing high-resolution codes on a variety of surfaces. TIJ technology is also highly dependable, being a newer and much simpler technology than other printing methods such as CIJ; the only ongoing cost of TIJ printers is replacement cartridges.
In addition to reduced upkeep costs, the simplicity of TIJ technology allows for the machines to be compact and easily mobile compared to other printer types. The portability of TIJ printers makes them a fantastic solution for applications where there is a requirement to fit into tighter spaces or production processes with bulky materials which are difficult to move, such as lumber production, construction material production and automotive/aerospace part manufacturing.
TIJ Applications
The low running costs and portability of TIJ printers make them a perfect solution for coding and marking in a number of industries, such as:
Printing codes onto large pieces of industrial wood

Printing codes onto other building materials

Printing codes and serial numbers onto manufactured parts such as automotive parts

Printing batch codes and dates onto food packaging

Pharmaceutical packaging




TIJ UV LED
INK


UV inkjet ink is a special form of inkjet printing that involves ink being cured by UV light.
This curing process offers the same colour and resolution capabilities as inkjet, with a more durable image that can perform in harsher environments.
This print technology is ideal for short-run jobs that require variable data, durability and colour.
FLOURESCENT
TIJ INK

Flourescent TIJ ink was

based ink developed to print 'invisible' codes that can be seen under black light. The print is colourless in normal light and flouresces blue under black light. Flourescent TIJ ink is ideal for printing data matrixes and other 2D codes on products sich as vial caps, high end cosmetics and pharmaceutical products.
SOLVENT
TIJ INK
Solvent based inks use pigments suspended in chemical solvents that can bond to less expensive, uncoated vinyl for outdoor graphics. Solvent based inks offer high durability in extreme environmental conditions, and are typically used for packaging, marking and coding and high impact graphics.
AQUEOUS
TIJ INK


Aqueous TIJ inks are water-based inks that are safe and easy-to-use in homes, offices, schools, and businesses. Aqueous inks flow easily through the thermal inkjet printheads that can be easily replaced by anyone who uses the printer.